Does your front yard look gray and flat because it hasn't been landscaped properly? Are you worried about not having enough cash to pay a landscape artist to work on your front yard? If you are anxious about these things, then this is probably the timeliest discussion you will ever come across.
Reclaiming Your Front Yard
Today is all about reclaiming your front yard so that will finally reflect your natural creativity! Remember: you do not have to be a professional landscape artist in order to produce professional-looking results. If you have an artistic streak, and you like the idea of implementing your own plans, then DIY landscaping is definitely for you.
Are you ready to conquer your front yard? Here are some basic ideas and strategies to get you started:
1. Before making any major changes to the landscape of your front yard, ask yourself this: how much attention do you want for your property?
Many homeowners engage in do-it-yourself landscaping because they want to enhance their home's curb appeal. Curb appeal is the instant impact of your home when viewed from the road, or from across the road.
It has been proven that curb appeal greatly increases the overall value of a property. On the flipside, you may not be that interested at all with curb appeal (or selling your house, for that matter).
In that case, you might want to tone down your modifications, so that your house or property will not attract unwanted attention from other people.
2.
Wooden fences are so fifty years ago! You can create divisions in your outdoor spaces with "living walls" (e.g. hedges). If you don't have the patience to trim and maintain hedges, you can also explore using stone walls, and fences made from alternative materials, such as bamboo.
3. How much color do you have near the driveway? Driveways don't have to be boring at all. Try adding a few flower patches to improve the aesthetics of your driveway. If your home's dominant colors are already cool, try warmer colors for your driveway.
Some great examples of warm colors are pink, orange, and red. Do not limit yourself to one or two types of flowers. Try three or four rows, and see what happens! Unbridled creativity is best for landscaping, especially if this is your first time to do it. And don't forget to have fun while you're at it!
4. An essential addition to your front yard are walkways that can help guests find their way around your property. Walkways also help create visual balance and harmony between distinct outdoor spaces.
Now, here are a few reminders when designing a walkway for your front yard. If your house is located near a busy street, your walkway should not be a straight line that connects the street and your front door.
If possible, try to make your walkway winding, so that your front door doesn't become an instant "target" for anyone coming in from the street. The same applies if you want to connect your front yard with a side or back yard. Winding walkways are easier on the eyes, and also make your landscape more dynamic.
Your backyard should be a haven for the whole family. When you do backyard landscaping, you need to consider both aesthetics and the needs of your family, especially if you have small children. When it comes to backyard landscaping, safety and privacy should be very important. The backyard is often the center of the family's outdoor activities, so follow backyard landscaping ideas for a haven the family will enjoy that is save and secure for everyone.
Backyard Landscaping Design
Necessity is your primary consideration when designing your backyard landscape. Evaluate the needs of your family and address these needs. When addressing the backyard landscaping needs of your family, you need to consider the amount of space that you have in your backyard and your budget. For instance, your kids may need a bigger place to pay in but if you only have limited backyard space, you just have to make do with what you have.
Design your backyard landscaping in such a way that you can maximize the use of space. Since your kids need space to play, consider doing away with structures that could impede movement. Leave open spaces in the middle of your back yard where your kids can play.
If you want to install some playground equipment for your kids, do not install these things in the middle of the yard. Note that playground equipment can take up a lot of space. If you place them in the middle of the yard, there is a big possibility that you will not be able to put other things in the yard anymore.
Since kids tend to become unruly when playing outdoors, make sure that your backyard is clear of any unnecessary obstructions. Keep your plants on the side of the yard. If you use pots for some of your plants, put the puts out of the children's way. Note that children are naturally curious and they might take interest in the plants in your yard. To avoid accidents, do not use thorny plants or anything else that might harm your children when planning your backyard landscaping.
Hide The Walls
The walls around your backyard can be quite intimidating. Consider hiding these walls when doing backyard landscaping. You may use shrubs to cover the walls of your fences. Plant the shrubs a few inches away from the fence and let it grow to a certain level that it covers most if not all areas of the wall.
Before you build a house, you go through so many tasks, formalities and plans. In fact, no home today can be built without a set of Government approved plans. You have achieved a foothold in your favorite company and you need to make your mark quickly – you make a plan that would help you with your promotion, and so on.
What is common to all the above tasks? The answer is the word 'plan'. This word can always make a world of difference in anything you do because when you plan you anticipate each and every step of the way, thereby ensuring your success. For successful homeowner landscaping ideas use good landscaping plans.
How Can Landscaping Plans Help?
First of all landscaping plans would ensure that the end result is what you wanted to have in the first place. In order to work out a great garden, however small, you would need to have two things steady in your mind's eye – (1) how the end result should look and (2) what are the obstacles that you need to overcome to get this done.
Without a plan you would not know what, when or how to do anything because there would be no organization of thought or action. You would also have no visualization in your mind regarding how the place should ultimately look. Without these criteria, it would be impossible to coordinate the work or accomplish anything of real importance.
The landscaping plans would give you the required vision which would drive you to achieve your goal; it would also provide you with some indicators that would signify whether you are moving in the right direction or not. The landscaping plans would have to include everything to the minutest detail so you would know how much time, money and effort would be required for obtaining the picture-perfect garden.
The landscaping plans would also help to phase out the creation of your garden as you would definitely not be able to finish it in one go. You would know with the help of the plan what to do when in order to achieve the ultimate look you wanted to give your garden.
Without a plan you may not end up with as good results as expected, however well the landscaping would be done, it would not have had the capability to anticipate future requirements of land, plants and people for the landscaping project in question.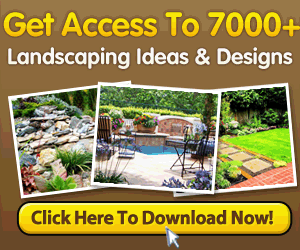 You have your whole yard to fill up beautifully with mulch, gravel, lighting, stones, flowers, trees, walls, bushes… where in the world do you start? Popular Landscaping Ideas can encompasses a wide variety of practices and trades such as floral design and electrical wiring, and all of this can be very confusing.
To learn everything that there is to know about landscaping would take years, and people not only don't have that time, but nobody wants to wait that long for something that they are perfectly capable of having much sooner. To get a great head start into your landscaping project, turn to landscaping ideas.
Some Popular Landscaping Ideas
The first question to answer for landscaping ideas is what kind of budget you can realistically manage for this type of project. A hundred dollars can buy enough flower seeds, but to purchase things like stepping stones and wall blocks.
You'll need some money that you're willing to spend. There are many different types of materials that you'll potentially have to purchase, including mulch, river stones, dirt, lighting fixtures, and seeds, to name a few.
Any one thing might only cost you ten or fifteen dollars, but it can also cost you hundreds of dollars in some cases. Not only that, but it wouldn't make sense to buy half the materials for a given area because of budget constraints and leave the rest to go for later because we all know what putting off projects really means.
Once you know your budget, it's time to get some landscaping ideas. Some popular ones revolve around gravel paths and sitting areas. Other ones include ponds, fountains, and bird baths for a water theme. Before you go looking for landscaping ideas, you should get a firm idea in your mind of what you want from your landscaping project in terms of functionality and aesthetics.
Next, you'll want to start looking at lots of pictures and television shows. These will show you different examples, and if you only like one part of a particular project, you can easily take that part and fit it into your customized landscaping idea.
Landscaping ideas are free to be had by all, and there are thousands to choose from. People spend long weeks and months, years sometimes, perfecting their yard, and one of the most enjoyable aspects of landscaping is showing it off.
So, most of these people post photos online landscaping forums or send them into magazine publications to show them off to a very wide audience, and you can get them for free online or for a small fee in a magazine.

When most people think of gardening, they think of plants growing in dirt, but this isn't the only way to grow plants. Hydroponics is another method to grow plants that doesn't use soil. Now you are wondering how can you grow a plant without soil? Learn Hydroponic Gardening Basics it's quite easy to grow plants without soil. To explain this, lets first explain how plants grow. Plants receive the bulk of their nutrients from the soil and these nutrients are basic minerals and vitamins.
Hydroponic Gardening Basics
When growing a plant without soil some type of nutrient free medium is used to hold the plant in place and the actual food and vitamins are feed to the plant via a complete fertilizer. I use the term complete fertilizer because most fertilizers are designed for plants that grow in soil, so they are missing a few key vitamins that the soil is expected to provide.
There are dozens of ways to construct a hydroponic garden. There are passive systems that do not use electronic pumps and bubble machines, and the plants simply grow roots that are submerged into the water. The Kratky method is a good example of this and is being used by commercial lettuce and vegetable leaf gardens.
Other methods use a recirculating pump to aerate the water to provide plants an abundance of oxygen and water. Some use misters that directly spray water on the roots of plants.
Hydroponic Gardening Benefits
So, why would anyone want to do hydroponic gardening. There are several benefits to using hydroponics and I will list then bellow:
(1) Hydroponic plants grow faster
(2) Hydroponic gardens have fewer insects
(3) Hydroponic gardens grow bigger plants
Plants grown in hydroponic gardens grow faster and larger than plants that are grow in soil. How is this possible? This is possible because when plants grow in soil, their roots have to stretch and search for water. In a hydroponic system, plants always have access to well oxygenated water, this allows them to grow at a faster rate.
With hydroponics, you also deal with fewer insects and diseases. The soil that plants are grown in is often a major cause of infestation. The carries insect larvae and gives them the perfect environment to grow, you do not have this with hydroponics.
Another benefit of hydroponic gardening is that they are easier to maintain. You don't have to carry around bags of dirt or deal with weeds. It is even possible to automate the water and feeding process so that your garden is self-sufficient.
Is hydroponic gardening better than growing in soil? This is a difficult question to ask. Hydroponics does have some major benefits over growing over soil, which we listed above. Better is such a value judgment. I will only say that hydroponics requires less maintenance.
As you can see, hydroponic gardening is a great alternative to growing plants in soil. It is easier to maintain, plants grow faster and bigger in hydroponic gardening. Give this method a try and you will be pleasantly surprise at how well it works.
If you are one of those homeowners who have a house on a hill, you can enhance the beauty of your home by creating a beautiful landscape. Creating a beautiful hillside landscape can be quite challenging, but if you are very creative and you are prepared to focus your energy into making your home look more beautiful, you will be able to make a yard that will be the envy of others. But, before you can hope to create a beautiful landscape, you need to learn the basics about hillside landscaping. Knowing what to do is very important to save time, effort and money.
Getting Hillside Landscape Ideas
If you do not have any formal training in gardening and landscaping, it will probably take time for you to be really good at hillside landscaping. Contrary to what you might have seen on TV about gardening and landscaping, these tasks are not easy to perform. Since you live on a hill, the task of landscaping is even made more challenging.
Note that hills are prone to soil erosion and it can hardly hold water. These conditions often make it doubly challenging to grow plants and maintain them later on. However, the good news is that since hills as natural land forms are good showcases for landscapes, your efforts of setting up a beautiful landscape will not go to waste.
Learn To Start Your Hillside Landscape Project?
The best way to start is to go with the natural terrain of the hill. According to experts, land that is naturally formed should not be disturbed. This means that you don't want to destroy the natural beauty of your place, do not hack into the hill or level the land when you want to plant something. A hacked up hill is not good to see.
Instead, create small terraces on the slopes of the hill and cover these terraces with plants. The small terraces should provide enough space for the plants to grow. Yes, creating those plant terraces will take a lot of time, but once you have established your terraces, it will be easier for you to grow and maintain your plants.
If you do not have the energy to create those terraces, you can still create a beautiful landscape by setting up a rock garden on the slope of the hill. Using rocks to hold the soil is very cost efficient. The weight of the rocks are usually enough to hold them in place so you need not spend so much money on strengthening the foundations of your hillside garden.